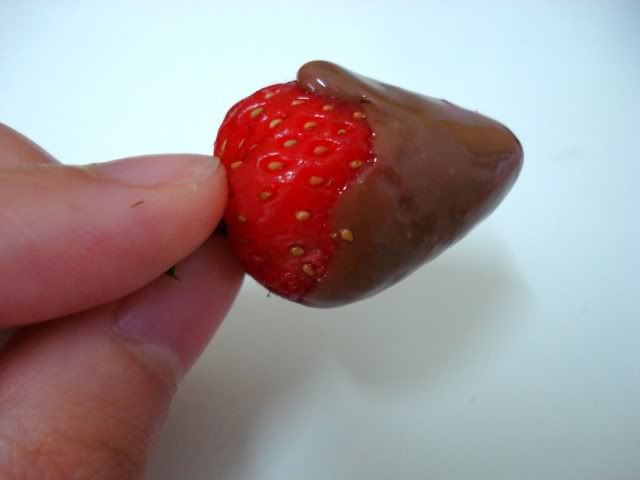 Bought some Korean strawberries again. And a bar of chocolate. Melted the choc and dipped the strawberries in them. Yum.
Homemade fondue:)
*************************
Felt blessed because when I was engrossed with grocery shopping (last night) at the chocolate and biscuit aisle, I did not even realize my phone was gone!!!
I was at the payment counter when a little girl came up to me and said:
"ni de tong shi tiao le" (you dropped something)
And she held up my phone. And I was like... "What?? When did it even leave me?" I was so thankful to the little girl. I wouldn't know what I would do if I lost my phone.
This is not the first time my phone left me without realization. Another time was when I was at the student lounge last year on 17th Aug to watch Lin Dan vs Lee Choong Wei.
It was at the end of the match and everyone left. When I was walking away from my spot, 3 steps later I heard my phone's sms tone. I searched my pcokets, not there. Then I saw that it was at the spot I was watching. Can't thank enough to the person who smsed me. Thank you... (you know who you are la)
Yeap... lesson is... There are still good people out there. And do the same for it might happen to you:) Karma~
Another thing is to stay alert!!! Don't be like me... Blur..