I dislike buffets because you will always try to pig it out. And then suffer from bloatedness. Which can be killing.
However, last night, I went to this place in The Gardens Hotel. This is a discovery. Really.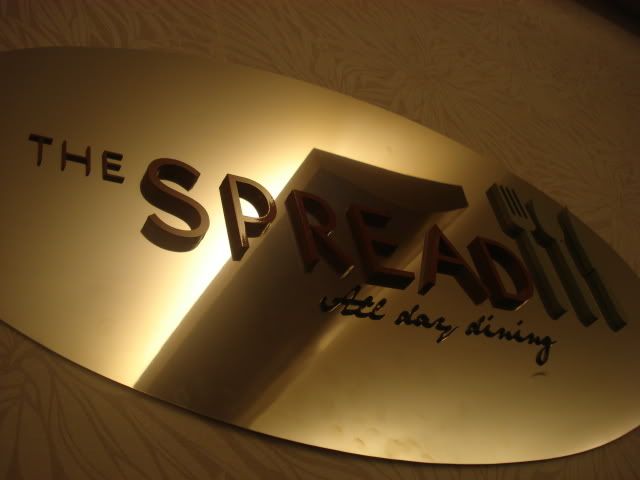 This place is called The Spread all day dining. And it serves an international spread. The environment is bright and spacey. And I don't think it is well known to the public. I asked the hostess and she said that the restaurant is opened a year ago!
Price for lunch is RM85nett, dinner RM95nett. But, I went there thanks to Chia Sin's dad. His treat:)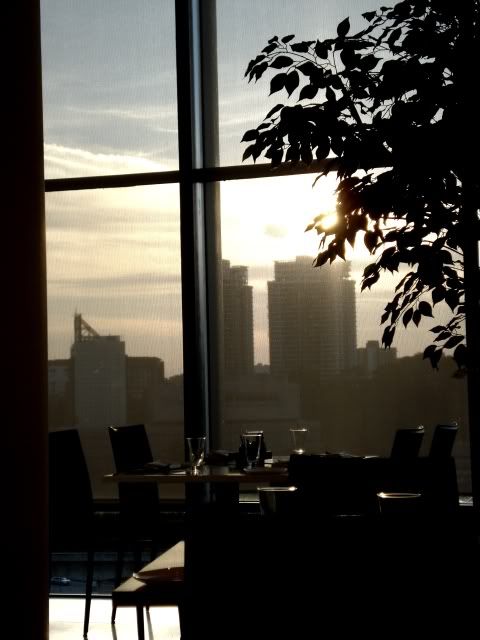 Yea. The spread was nice. Wanted to try ALL the food but didn't manage to.
Had loads of food.
The spread...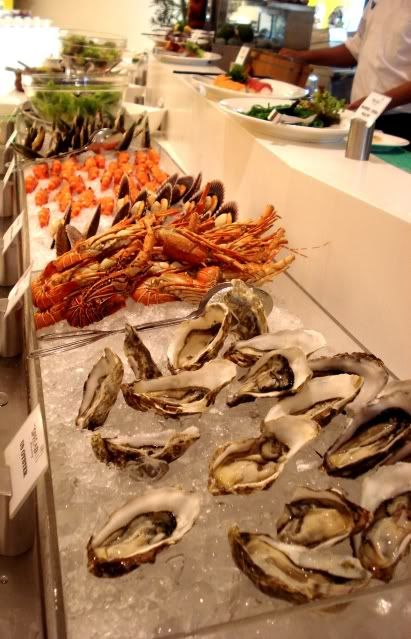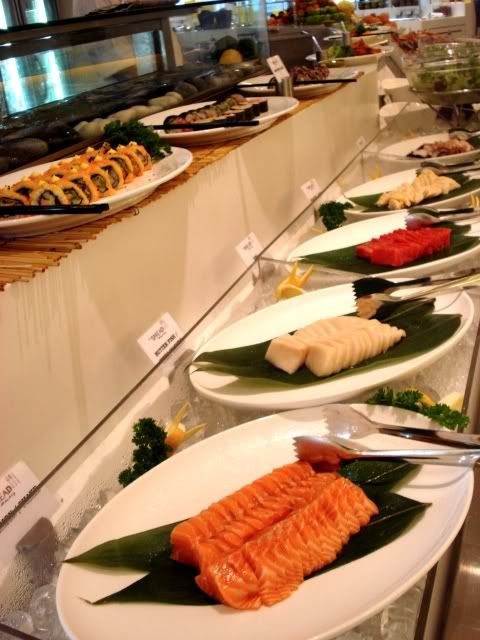 First off.. canapé
I had seven different types of these. They made sure portion was small so that you can try more and more stuff. Excellent!
The best thing is the sashimi. Very very very fresh. I took some salmon, tuna, butterfish. I didn't have to really chew. It just melted in my mouth. I could actually taste the butter taste of the butterfish. And I never knew salmon could ever ever taste so wonderful. Tuna is just *drooools*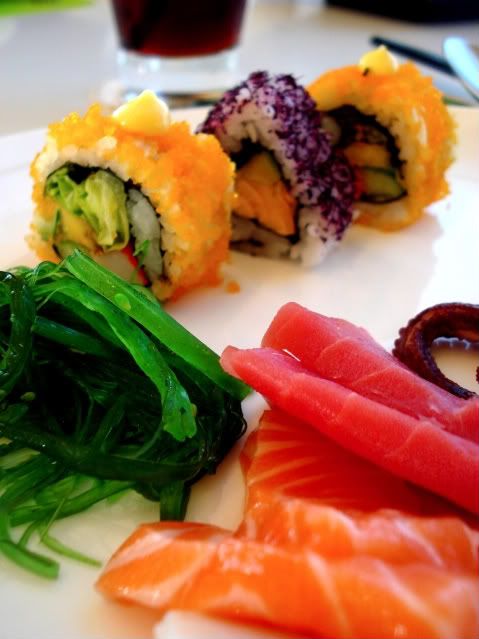 I had the sashimi twice. I had the octopus too. The sashimi had no hint of foulness, which is very rare to find. Nice!
Then I had a plate of assorted cooked seafood. Unlike some places, sometimes grilled stuff end up rock solid but this was just nice:) and portion was just right. Tender grilled salmon... should have taken more...
Then I had a lotus root with chicken soup.. I liked it because the chicken meat is boneless and I drank every last drop of it.
Then I had roasted Lamb Leg with rosemary sauce.. Yum yum.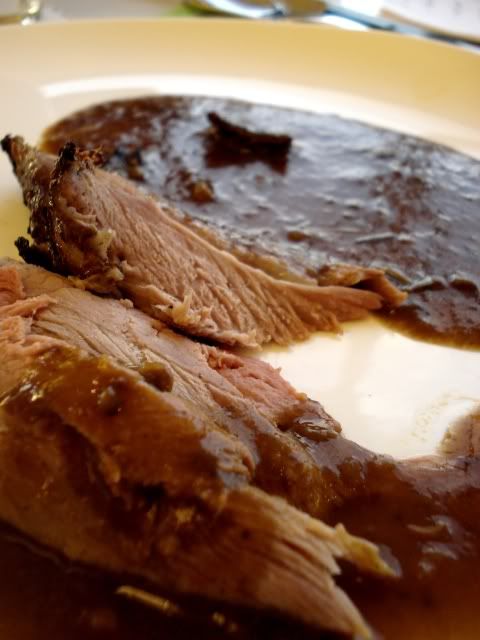 The local delicacies... I shouldn't have filled my stomach with these. Should have taken more satays.. Which was delicous...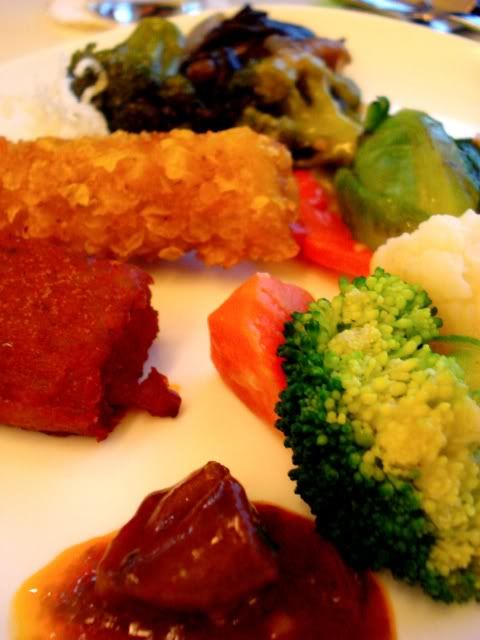 Then there was this tau fu fah... it was so smooth that it flowed through my teeth. No chewing needed! Reminiscence.... wahhhh....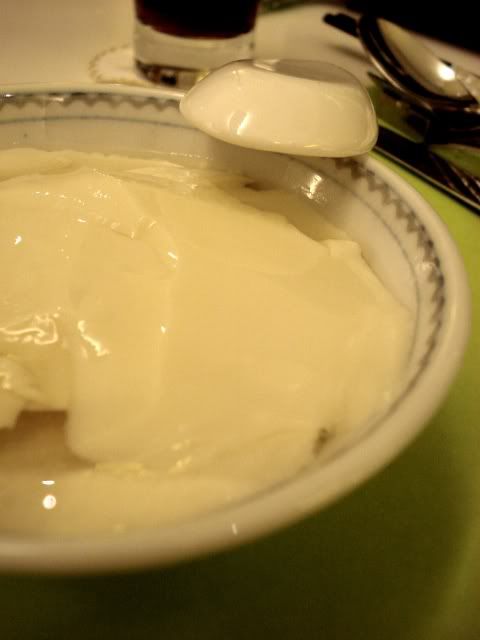 I had 3 gui ling gaos... with pure honey.
I had jellies, puddings, chocolate mousse and pralines...
I had this wonderful black sesame ice cream...
There were so many other things that I did not manage to eat. There are waffles, cotton candies, chicken rice, nasi briyani, scallops, lobsters, abalone, oysters, curry mee, stews, salads, pastas, cheeses, and so much more...
I don't mind going there again...(not soon though.. and if i go there at a cheaper price..I'm a cheapo) The price is up to its standards. Because of the quality, the food value is higher, which makes eating there worth it.
The thing about this buffet is you won't mind eating the same things again.. Because it's that nice! (some other places, you bite once and you'll abandon that food forever)
Plus, service is great! They fold your napkins everytime you leave your table to get food. And they keep refilling your drinks. Free flow of Ice lemon tea/sprite/coke. Coffee is chargable.
I give:
Service:8/10
Food:8/10
Variety:7/10
Price:7/10
Ambience7.5/10
Average:7.5/10
Location? Level 6 of The Gardens Hotel. Take the lift.
This is a review worth writing. And if suddenly it becomes famous, it can be partly due to this post.
But let's hope that this kind of experience will be to every visitor there.
************************
By the way, if you are want to eat it at a cheaper price, you can. I managed to ask the waiter if there are any and there is!
It's called early bird special. However, you can only dine an allocated time only.
Lunch is 11.30am to 1pm. Dinner is 6pm to 8pm.
Promotion goes like this.
You get:
20% off if you go in a group of 4
30% off if you go in a group of 6
40% off if you go in a group of 8
50% off if you go in a group of 10 (max 20)