Finally realized that I used the "we-are-not-supposed-to-use" acrylic base. Heard that it's more $$ and easier to manipulate. Hehehe.. But its colour is quite weird. I call it the anaemic denture. It's a little too pale. Even the roots can be seen through.
And yup. It's a LOT of work coming down to ONE denture. Well, of course us being newbies to making these... It's a great accomplishment!!
Here are what my friends and I had to go through almost everyday to do ONE denture(somedays are for cavity prep, mounting, restorations, fissure sealants and all sorts).
Firstly, we had to see the 'patient' and in my case, his name is Ewan. He is edentulous (
monge
=no teeth) and he wants a denture!
I have to make sure I use the right stock tray so that it fits his mouth. The red thing is wax, it's used to extend the tray so that the impression material can take the sulcus and the posterior teeth etc.
Primary impression using alginate material.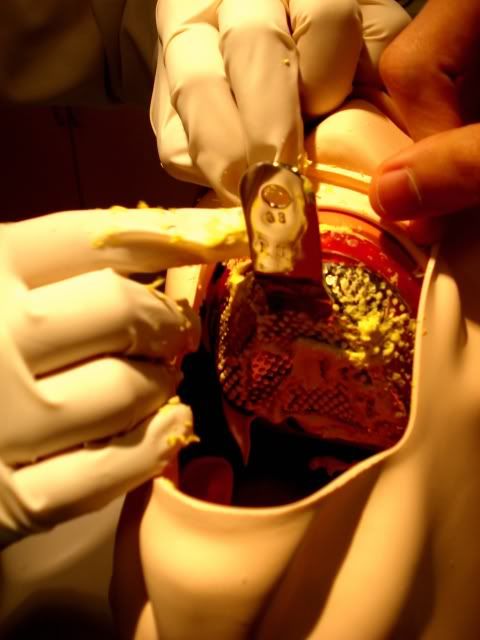 *Due to my very
lao-beh
(poor) skills, I had to redo the impression taking more than 10 times.
Plus, look at the mess... Poor Ewan
After that, we say bye bye to Ewan and the impression is disinfected and sent to the lab to get a stone model of the impression so that we can do a more fitted tray to get the secondary impression.
The blue thing is what we call, SPECIAL TRAY. Specially made to fit your mouth:)
The impression material for the secondary impression is Zinc oxide eugenol, which is used to take details of your mouth so that we can have the MASTER CAST to work on. Your denture will follow your master cast. (before reaching the master cast part, you'll need to do beading and boxing, which you don't need to know)
After having the master cast, we use a light cured material to be the base.
Nice blue light O.O *it's cured for 5 minutes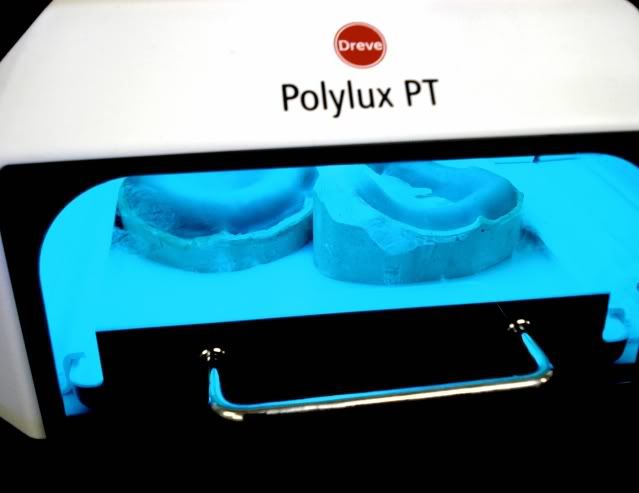 Then the occlusal rim is put on the base and it's measured and trimmed and patched and trimmed and measured and trimmed till we get it right.
This is MY articulator:P
This part requires loads of patience, MMR! The occlusal rim MUST be parallel to the alar-tragus line and the interpupilary line. This is so that the denture will function normally when the person is moving the mouth. And so that it won't make you look weird.
After that, you do the facebow thing (which we didn't because the lecturers are the ones who adjusts it, and we only have 2 to share with the whole batch)
*did you know that the facebow thing caused a havoc among my friends who used it first?? Some had to trim their model and some had to remount many many times!! I was slow that time because I was sick the previous week so production was slower (explains why there aren't many pics at this time)
Using the facebow, we got to mount the cast on the articulator!! I used the fast acting plaster, using the catalyst because there were many waiting to use the facebow. I did mine in less than 10 minutes! Yay!! But it was horrendous:(
Moving on... It was time to mount the teeth!!!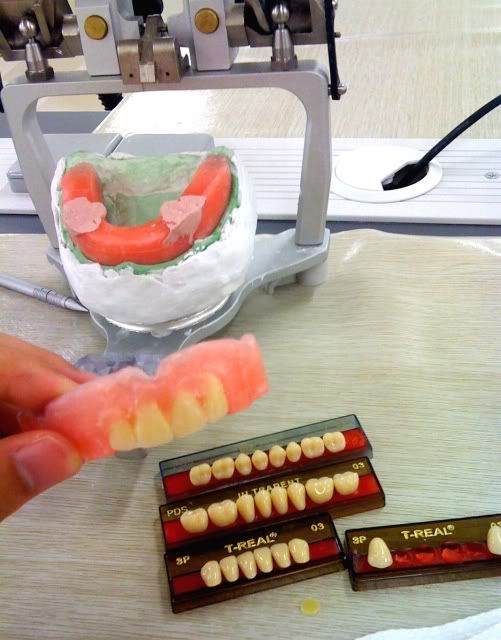 I was the first to do it, while others were busy doing amalgam. Me, mounting the teeth one by one all by myself without guidance (just by recall of what I saw in the demo), was so relaxed and did it with no pressure around.. What a feeling. I didn't do fillings yet because I didn't have teeth to work on, so I worked on fake teeth:)
So after it was done, with adjustings here and there and making sure the height was right, the incisal pin touches, and the right cusp is interdigitating with the right fossa.... Loads to consider.
Then after the occlusion was right, it gets a green light and there begins wax work, to improve the looks of the future denture. It needed some ridges, some depressions to look like the real thing. There is this fun thing called chip syringe that is used to blow fire to your wax work. But I rather flame it:P
After that, investing!! Put the model in the brass flask
Always remember to put vaseline at the right places.
and let it stay in the hydraulics pump thing.
Then, it goes for dewaxing to remove the wax and the base. At this point.. Remember to apply
cromosil
cold mould seal *embarrasing moment in the lab due to simply calling things with weird names*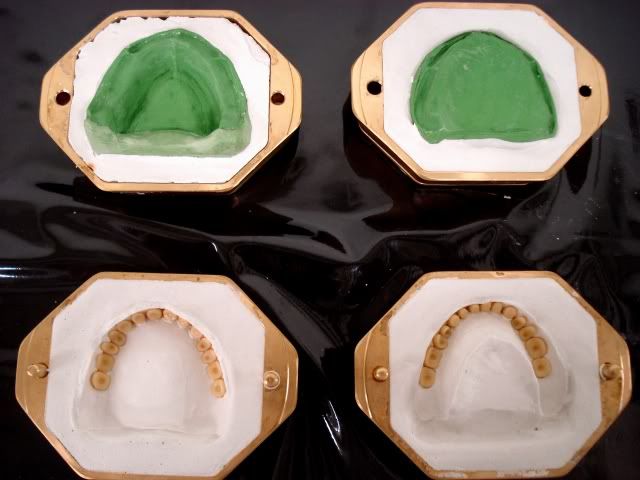 Then it goes for packing and then curing for a whole night. Then the next day, you deflask it.
And mine... tragedy struck when I deflasked it..
My model...*creee-aaak*
It broke into pieces:(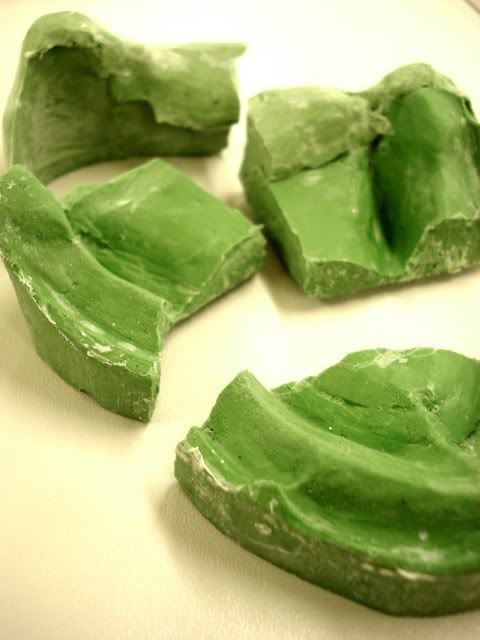 *my heart cracked when I saw it crack*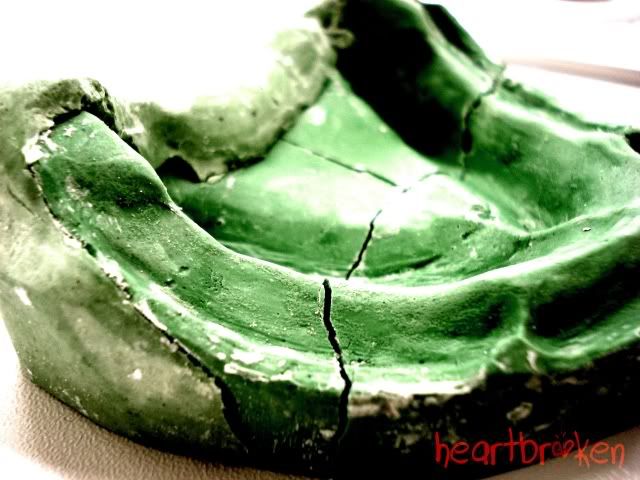 But then, I went on to stick my 4 pieced model on the articulator and continued to to selective grinding till my fingers got blue..
And when the incisal pin touched the floor, I went on to trim the acrylic denture!!!
After trying to make it look nice, using acrylic bur, sandpaper, penknife, lecron, tapered fissure bur... I went to POLISH *shine*
Yea.. Another note, the polishing machine is DANGEROUS. And painful... Kinda polished my fingers a bit... Will try to polish my nails...
Yea... I have one more thing to finish for my denture.. That is... Issueing the denture to Ewan:)
**********
For now, I am waiting for my turn to bath and will continue on my Community Oral Health report... munching on these:P